30th August 2018
Daring Duo Back On The Water After 30 Years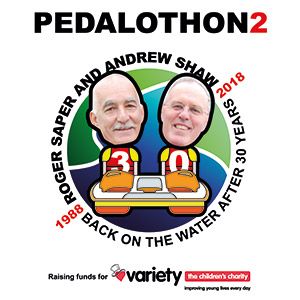 They could be putting their feet up on Sunday but instead Roger Saper and Andrew Shaw will be using their feet to peddle 125 miles along the Thames to raise funds to help transform the lives of disabled and disadvantaged children.
Their six-day pedalothon will start at Lechlade on Sunday 2nd September and finish when they reach Kingston where the Thames becomes tidal and beyond the skills of those more used to land than water.
Roger and Andrew have been busy preparing for this challenge whilst at the same time calling on friends and family to support them by donating to their online fundraising site.
The daring duo's challenge has also caught the attention of the media. Roger has been interviewed on BBC 3, London Live, and London Tonight.